Description of Pictures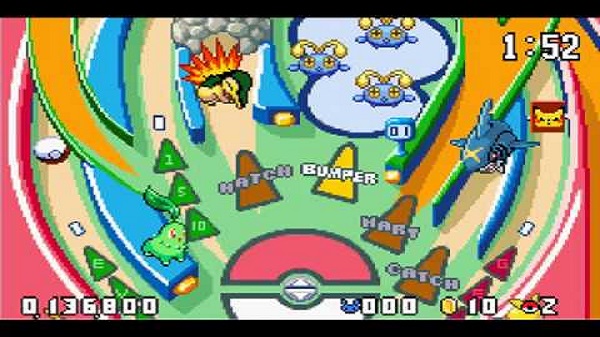 Pokemon - Pinbal Ruby and Sapphire ROM game for GBA is not your regular pinball game. While it retains the basic traits of pinball, you get to play with your favorite Pokemon and catch more by hitting them at targets. Your targets are located on the Ruby and Sapphire playfields.
Besides accumulating as many points as possible, your goal playing Pokemon - Pinball Ruby and Sapphire ROM is to capture all of the 205 pocket monsters available. Use these monsters to complete your Pokedex.
The game features three modes named the Evo, Egg and Catch 'Em. The Catch 'Em mode reveals Pokemons after the Pokemon bumpers have been struck thrice. Strike the Pokemon that appears after three times to unlock it. In the the Egg mode, you must strike newborn Pokemon twice within a specific timeframe to capture it.
This Pokemon - Pinball Ruby and Sapphire ROM download features bonus tables, two fields with distinct mechanics, slots, and a Pokemon mart. Download and play for free.
Read More